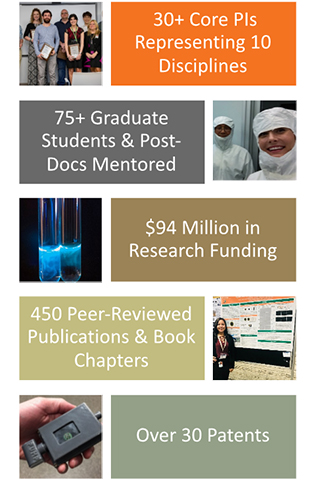 Discovery and development of technology at the nanoscale has resulted in materials and devices that have had a tremendous impact in many fields and industries, such as computer science, telecommunications, biotechnology, drug discovery, molecular diagnostics, sensing, and the environment, among others. While these advances have, undoubtedly, had a positive impact on the wellbeing of our planet and humankind, there are still many challenges for which there are no viable solutions.
Nanotechnology is posed to be crucial in addressing current global challenges, such as the need for more effective vaccines, point-of-care-diagnostics, medical devices, new targeted nanotherapeutics, as well as environmental sensing, remediation, and sustainability, by employing nature-inspired and "bottom-up" approaches. In that regard, the University of Miami's Dr. JT Macdonald Foundation Biomedical Nanotechnology Institute aims to address global challenges by creating innovative solutions harnessed from the expertise and multidisciplinary work of our talented faculty, students, and staff across all UM Schools and Colleges.
Our state-of-the-art Nanofabrication Facility with its ISO-100 and ISO-1000 clean rooms equipped with instrumentation for the precise fabrication and characterization of materials and devices at the nano- and micro-scale, serves as the primary source of this type of manufacturing for South Florida's academic institutions and high-tech industry.
It is with excitement that we invite you to join us in this journey of discovery and innovation and partner with us in making a difference in South Florida and beyond,
Sylvia Daunert, PharmD, MS, PhD
Director, Dr. JT Macdonald Foundation Biomedical Nanotechnology Institute