DR. MARK YEAGER - Electrostatic and Steric Mechanisms for Gap Junction Channel Gating during Tissue Injury

DR. SYLVIA DAUNERT - Challenges and Nanotechnology-Based Solution in Drug Delivery (FAN distinguished lecture series)

DR. ULI WIESNER - Ultrasmall Particle Probes for Diagnostic and Therapeutic
Applications in Oncology

DR. JINJUN SHI - RNA Nanomedicine: An Emerging Therapy for Cancer and Atherosclerosis?

DR. SABITA ROY - Linking the Gut Microbiota to the Opioid Crisis 

DR. VIVEK PRAKASH - Fascinating flows and emergent mechanics in simple marine animals

DR. KRISTY AINSLIE- Acetalated Dextran: A spoonful of sugar helps the medicine (and vaccines) go down!

 

Celebrating Black History- Interview with Professor Isiah M. Warner

Interview with Dr. Vivek Prakash- Biophysics of Fascinating "Flows" in Animals
BioNIUM Nanofabrication Facility has reopened!
We are excited to welcome you back.  We encourage social distancing and spacing is limited at our facility.  To mitigate spread of COVID-19, please book your reservation in advance by emailing Dr. Sung Jin Kim, Facility Director at kim@miami.edu

The health and safety of our community is top priority.
New patent in record time
Because of our incredible team of biomedical researchers at the University of Miami, we were able to patent the Rapid Point-of-Care Covid-19 test and the inventors.  It was allowed by the USPTO (United States Patent and Trademark Office) in a record time of less than 2 months. 

 S. Daunert, S. Deo, J.M. Zingg, "Materials and Methods for Detecting Coronavirus". Allowed on May 13, 2020.
Dr. John T. Macdonald Foundation Supports Development of Newly Patented Point-of-Care Rapid Test for COVID-19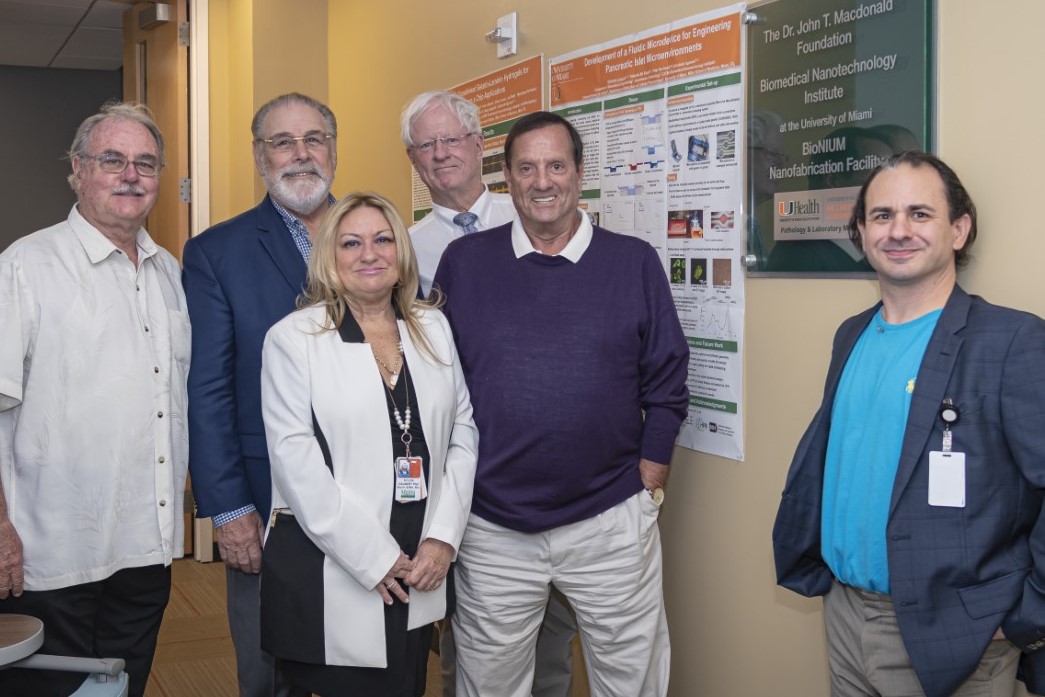 From left, John Edward Smith, managing director, Dr. John T. Macdonald Foundation, Aldo Busot, John Nordt III, M.D., Foundation board member, Sylvia Daunert, Ph.D., Pharm.D., M.S., Dean Roller, M.D., Foundation board member, and Kevin Luongo, facilities manager, BioNIUM.

BioNIUM invites you to participate in the 2019 NanoDay being organized at the Shalala Student Center on Friday, September 20th, 2019.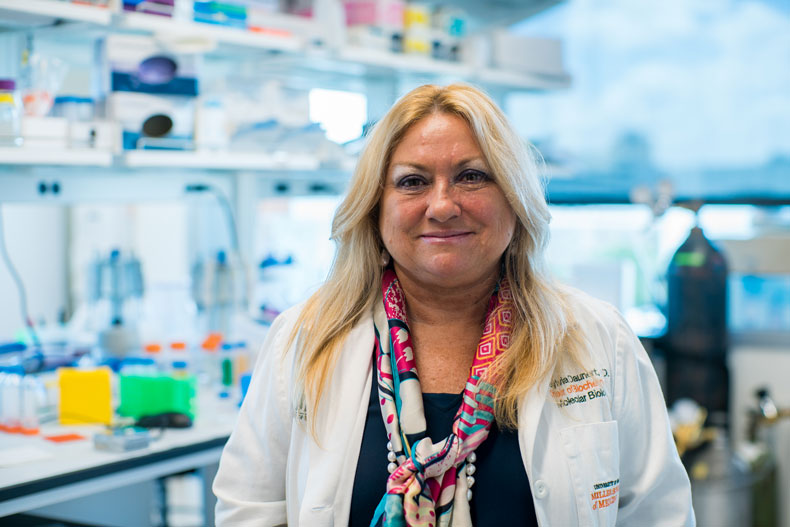 BioNIUM's new director, the chair of the Department of Biochemistry and Molecular Biology plans to elevate UM's biomedical nanotechnology institute to international prominence. Read more

UM breaks ground on Phillip and Patricia Frost Science and Engineering Building. Read more